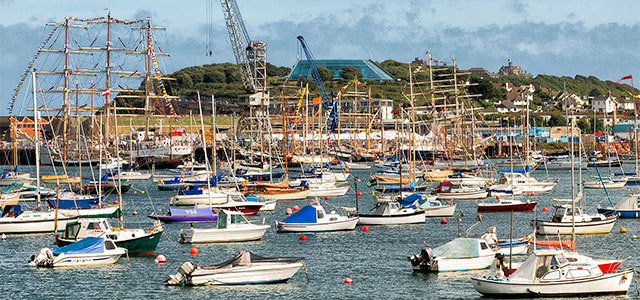 The docks at Falmouth with, in the background, the largest of the tall ships moored up.
Photo © Keith Littlejohns
On a warm and bright, sunny Cornish day Falmouth formed the perfect backdrop for the Tall Ships Regatta 2014. In the main harbour the sea of masts and rigging oozed of maritime heritage that was a delight to behold.
Whilst still moored in dock, several of the tall ships were open for visitors to walk around. Inevitably there were large crowds queueing to get on board the vessels, however I was fortunate enough to get on board two of them despite the fact that a recently erupted foot problem had me hobbling in pain for most of the time.
The first ship's gangway I negotiated to get on deck was the 'Pelican of London'. Built in France in 1948 to work in the Arctic her hull was derived from the sleek clippers of the late 19th century. The ship's exclusive rig is based on the Barbary Coast pirate ships of some two centuries earlier. The only pirates seen this day though were a group of young men dressed in full pirate garb who boarded several of the ships with menacing chants of "avast there me hearties" and "hand over yer gold and valuables", which generally met with instant capitulation by the crew who then soon engaged in pleasant conversation with the pirates.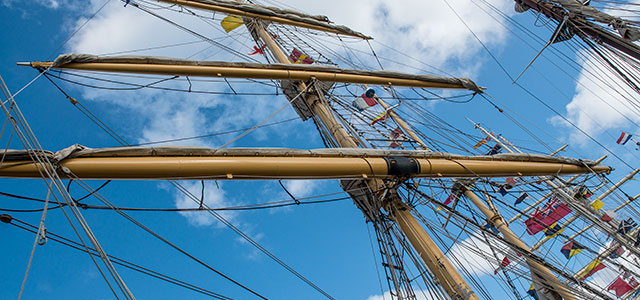 Part of mast and rigging, 'Pelican of London'.
Photo © Keith Littlejohns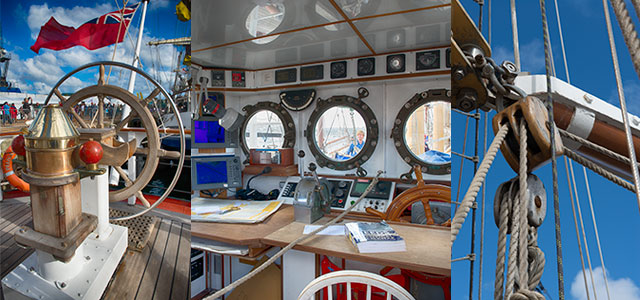 Various photos taken onboard 'Pelican of London'.
Photos © Keith Littlejohns
Next in line on the dock was the powerful Tenacious, the largest wooden tall ship of her kind in the world. Built in Southampton, UK and launched as recently as 2000, she is equipped with many modern facilities despite her very traditional appearance. Attention to detail extends to making Tenacious an accessible ship for crewing by people with a range of disabilities. There is plenty of purpose designed wheelchair access, a speaking compass, an extra bright radar screen plus an induction loop and vibrator alarms. Tenacious is 65 metres (213ft) long, including bowsprit, and is rigged as a three-masted barque with two mizzen gaffs and weighs in at 586 tons.
Various photos taken from aft and onboard 'Tenacious'.
Photos © Keith Littlejohns
Landlubbers were not disappointed either as there were plenty of activities and attractions taking place at various locations across the town.
It seemed that every open space had its own market with food being the dominant feature, closely followed by arts and craft stalls. Falmouth's many restaurants, pubs and, of course, the inevitable pasty shops also did a roaring trade. Rick Stein's outlet in Falmouth 'Rick Stein's Fish' had a number of specials on offer during the Regatta including a specially brewed ale called 'Sail Ale" brewed by local Cornish brewery 'Rebel Brewing' based in Penryn – I can testify that it made a good accompaniment to Rick's fish and chips.
Musical entertainment was also well represented and two locations were specifically set aside for this purpose. The Moor, a square at the northern end of town hosted a fairground and modest sound stage for musicians. Whilst at the south end in the main Events Square, immediately in front of the National Maritime Museum, a much bigger stage was used by more well known music acts that included the internationally famous and very much appreciated Cornish sea shanty singers the Fisherman's Friends.
Prior to the Fisherman's Friends set, always brilliant, a band called the Grenaways gave a great performance. Their music style is definitely a very confident and polished folk rock with more than a nod to shanty. The quality and sheer vitality of their performance was a joy to listen to that held the audience's attention during their whole session. Nicely balanced vocals full of cascading rhythms with what I can only describe as having passages reminiscent of Phil Spector's 'Wall of Sound', not in actual musical style but more that tight all enveloping full throttle sound that hits you with a warmth that makes you feel good and leaving you wanting more. If you are into folk rock with a generous pinch of nautical flavouring then this Cornwall based band are certainly worth a listen to. They have a CD out "Be Still Young Heart" on Dare2B Records, recorded at St Kew Church, Cornwall a venue well known for its amazing acoustics. Oh! And just one more thing…available for download on iTunes.
These two brilliant musical talents rounded off the day perfectly before taking the short Maritime Line train trip home from Falmouth Docks station to Truro.