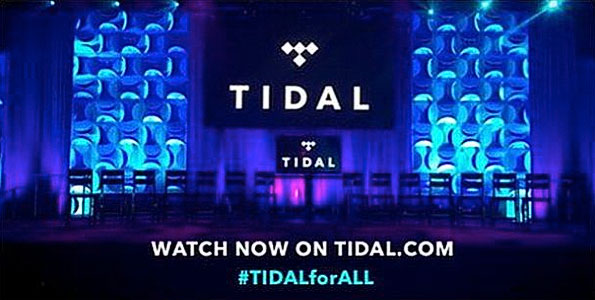 Tidal is the brand name of a new music and video streaming service that is a "co-operative" venture between a number of the biggest names in popular music entertainment. It is billed as the first artist-owned platform for music and video and was officially launched in New York today by rapper Jay Z. Among the other A-list celebrity artist who co-own Tidal are Madonna, Rhianna, Beyonce, Kane West and Alicia Keys as well as Daft Punk and Jack White.
The creation of this new service is a reaction to claims that musicians are loosing out financially in the current paid-for digital download and streaming services environment. Alicia Keys heralded Tidal as a new service that will "forever change the course of music history".
A premium quality monthly subscription works out at $19.99 (£13.50) per month. A "regular" quality service aimed at users with average or lower quality digital devices is available for $9.99 (£6.75) per month. Tidal will initially be available in 35 countries around the world.
Only time will tell if the Tidal service realises its full potential and/or if it will ever appeal to a mass market. I'm sure that a key factor for any substantial growth in sales, and especially audience credibility in this venture will be if co-ownership is offered to a very much wider spectrum of musicians, singers and songwriters at all levels to help support fellow artists. If not, then it will surely be rightly denigrated as being a cynical ploy by already extremely rich individuals to add even more cash to their already massive piles of wealth, which would inevitably create a backlash of alienation among their respective fan bases. Interestingly, years ago disgruntled fans could protest by publicly burning their vinyl, tapes or cd's. One wonders if destroying your digital device in a similar manner by fire, and thus your entire music collection along with it, would be an option today.
This topic brings me onto a pet subject of mine at the moment. Just how much of today's singers and musicians live or recorded performances is actually genuine raw talent? Is it their talent we are listening to, or is it the skills of the software developers who create artificial-intelligence ware such as Antarestech's Auto-Tune or Bias Software's PitchCraft ranges of sophisticated audio correction applications along with a plethora of other corrective software. With such widespread use of computer aided vocals and instruments is the punter actually getting the real deal, whilst paying increasingly exorbitant amounts of money to performers for either live or recorded music. Just saying!
The principal of co-ownership among the creative media community is not exactly new and several, perhaps slightly more philanthropically based high-profile ventures have evolved in the past including the following.
In 1919, successful movie industry notables Charlie Chaplin, Mary Pickford, Douglas Fairbanks and D. W. Griffith joined forces to create the United Artist Corporation with the aim of gaining financially and creatively from the joint venture. By 2014, after many commercial mergers, takeovers and multi-ownerships through the years, the resulting collection of interested parties consolidated the enterprise into a single entity called United Artists Media Group.
In 1947, Robert Capa, David Seymour, Henri Cartier-Bresson, George Rodger, William Vandivert, Rita Vandiverts and Maria Eisner founded the famous Magnum Photo, a co-operative agency of photo journalists. This was the very first photographic co-operative and was owned, and administered by its members for the benefit of its members. In its early days, membership of Magnum was solely by invitation only, but this has changed over the years. The current system is a multi-stage process starting with application approval upon successful review of a portfolio of work submitted by the applicant who is then accepted as a 'Nominee Member'. After two years, during which time the applicant has the opportunity to get to know the existing members, a second portfolio must be submitted for review and if successful the Nominee Member is awarded 'Associate Membership' status. After a further two years the Associate Member may apply for full membership by submitting a third portfolio of work for review. Once elected as a full member the successful candidate is a member of Magnum for life or as long as they wish. Once achieving full membership the individual becomes a Director of the company and has full rights in the corporate decision-making.
Many such ventures are borne out of dissatisfaction with low performance or royalty payments from large agencies that take more than the lions share of revenue generated by the artists work. An example of low payments is that offered by the image media giant, Getty Images that typically only pays the creative individual a meagre 20% of the selling price for their hard work – the 80% being taken in fees, which considering that sales and distribution nowadays is nearly all by highly cost-effective digital download from their website seems a huge amount.
It is no wonder then that there are now many instances of co-operatives involving creative people springing up all over the world. One very successful such co-operative I have come across recently is Stocksy United, a Canadian based multi-stakeholder co-operative photo agency with high quality photo contributors from all over the world. The Stocksy United royalty payment system is generously based on a 50% royalty payment (or 100% for every extended licence) going directly to the photographer with an additional annual lump sum payable based on a share of profits after administration costs have been deducted. This offers the photographer a much fairer reward for their work than the Getty style system along with greater control over their own work. The purchaser of image licences also gains as sales prices can be pitched lower that the mainstream agencies for exactly the same quality without the photographer loosing out. A win-win situation for both vendor and purchaser! Stocksy United can be found at www.stocksy.com. A leading commercial photographer, Thomas Hawke, discusses his reasons here for leaving Getty and joining Stocksy United, including a very much fairer reward for the photographer's hard work than Getty offers.