Visitors to Truro had the opportunity to enjoy three glorious days of sunshine and gourmet food at the annual Great Cornish Food Festival that took place on the 25th, 26th and 27th September. This was the biggest show so far in the events 12 year history, with the largest number of companies attending and visitor numbers that were expected to be in excess of 40,000.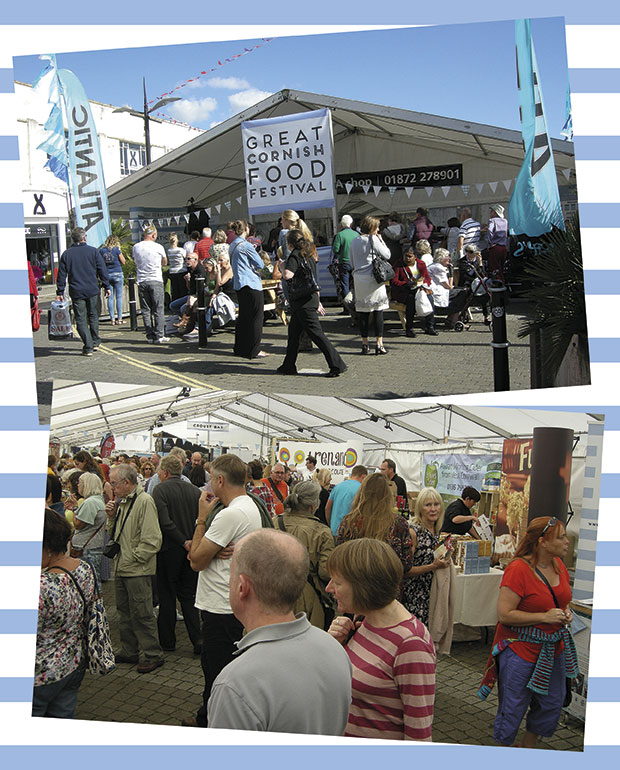 Truro's Lemon Quay piazza was buzzing with activity both inside the giant marquee and outside at the many small stalls around the quay. BBC Radio Cornwall covered the event, in particular the live cookery demonstrations that were often presented by well known chefs from the many top quality restaurants all over the county. Tom Brown, Head Chef at Outlaw's at the St Enodoc Hotel, Rock is among the photo collages below.
A partially seated area at one end of the marquee was reserved for visitors to rest while eating hot food and beverages being served by a variety of caterers that also included a bar serving thirst quenching real ales produced in Cornwall.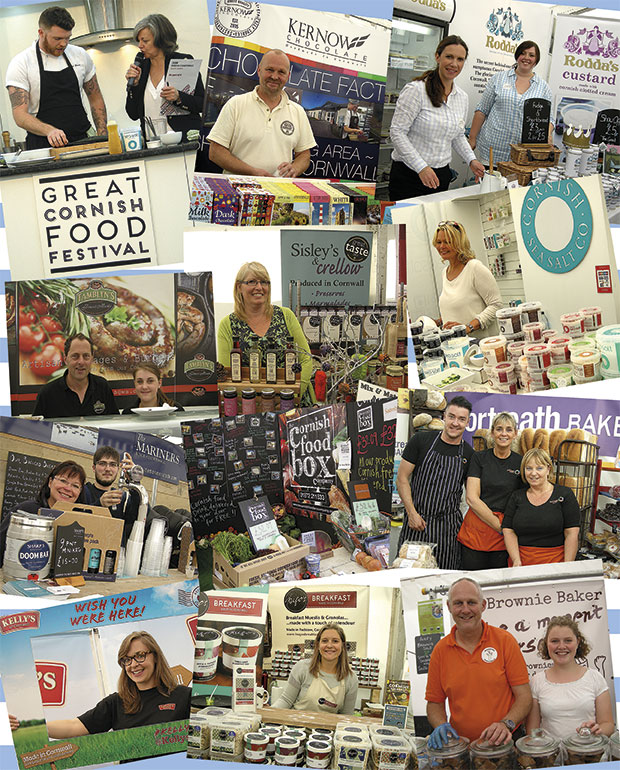 These photos show just a selection of the many Cornish companies that attended the event. Happy smiling faces says it all. As usual, product tastings were positive and business was brisk making this the ideal shop window for the already increasingly popular Cornish produced foods that have ignited so much interest among foodies from all over and won much acclaim from top chefs around the UK and further afield.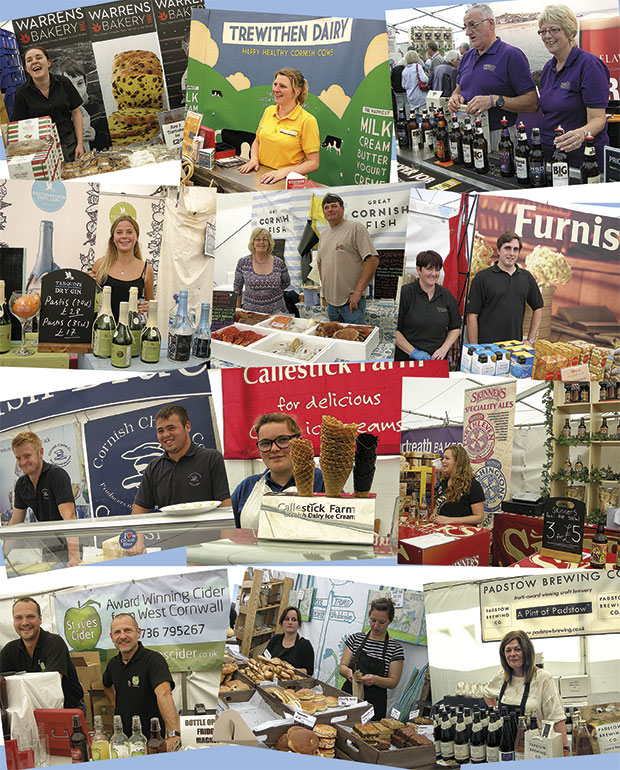 Many small stalls lined the piazza outside the main marquee. All sorts of foods were available including several hot food vendors serving dishes ranging from delicious Cornish duck burgers to spicy alternatives.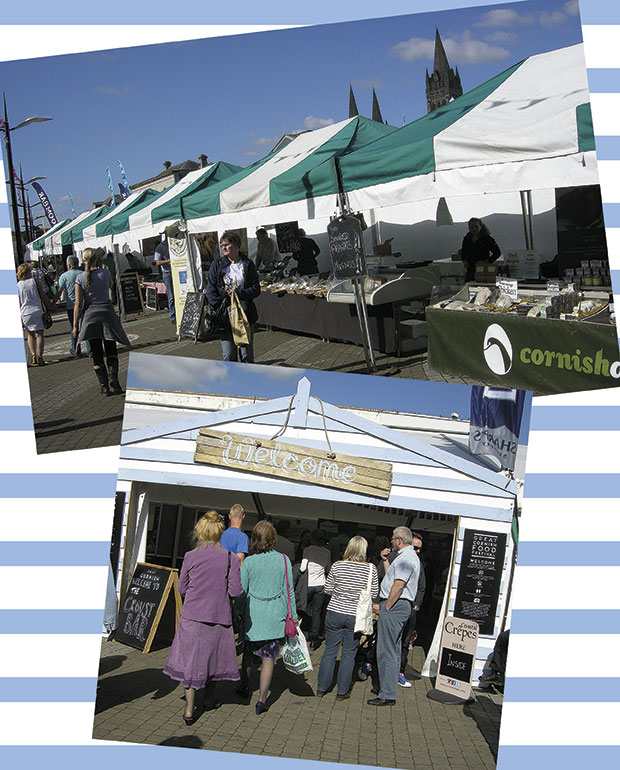 At the other end of Lemon Quay musicians played in the shadow of Truro's controversial giant Drummer statue whilst people relaxed in the gloriously warm sunshine that bathed the piazza. Food and drink was also available here from the various bars, cafes and eateries that line both sides.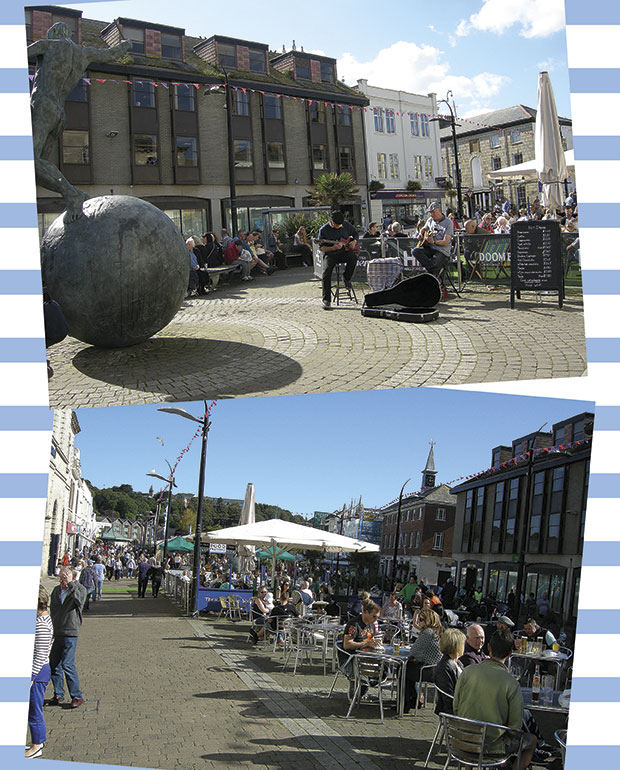 What is now the vibrant civic space called Lemon Quay piazza was once a working dock with one side named Lemon Quay and the other Back Quay. Sailing vessels carrying cargo would berth and unload at what was very nearly the centre of the city. It was during the 1920s that the dock was filled in to become a car park, which thankfully has more recently been transformed into a magnificent civic open space that plays host to a succession of special events throughout the year including regular market days on Wednesdays and Saturdays. A Christmas Victorian Market, Truro's famous 'City of Lights Parade' plus various Christmas street markets including the 'Made in Cornwall Christmas Market' are all held in the lead up to Christmas and not forgetting New Year fireworks that can be viewed by the throng of people gathered in the piazza. Truro truly is a city open for business all year round.
All photos are © Keith Littlejohns