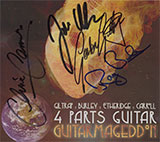 Any fan of guitar music could not fail to be impressed, nay enthralled by the performances given this evening by Gordon Giltrap, Ray Burley, Clive Caroll and John Etheridge aka 4 Parts Guitar, at the Princess Pavilion, Falmouth in Cornwall. Amplified acoustic guitar was the mainstay of the evening alongside an injection of electric guitar genius from John Etheridge.
My CD sleeve signed by all four musicians.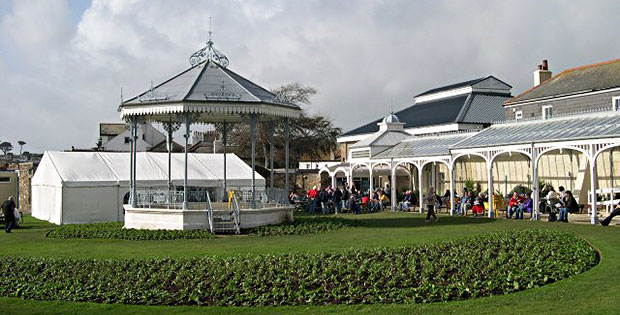 Gardens and bandstand outside the main Princess Pavilion building in Falmouth

Gordon Giltrap, became famous in the 1960s and 70s as a folk/pop star with LP recordings such as 'Perilous Journey' and 'Fear of the Dark'. His 'Heartsong' single was chosen as the theme tune for BBC TV's Holiday programme from 1978 to 1985. I well remember going to one of his concerts at London's Rainbow Theatre, Finsbury Park in the late '70s and being blown away by the quality of the performance by him and all the musicians in his then band, and I still have my vinyl copy of 'Fear of The Dark'.

Raymond Burley is one of Britain's most experienced classical guitarists. Apart from numerous live solo performances, Raymond has worked on film scores and performed on radio and television. He has also toured extensively and worked with many other musicians and orchestras. His skills as a teacher has made him in great demand for taking master-classes and guitar workshops. During the evening performances at the Pavilion it became evident that he is also a highly accomplished music arranger for guitar.

Clive Caroll, the youngest member of the quartet, has been playing stringed instruments since early childhood. He is classically trained, having graduated with a first class honours degree at London's prestigious Trinity college. Clive does not confine his playing solely to the classical style and it was obvious that he has great skills across different genra including Jazz and blues. He is an accomplished composer and performed a selection of his latest compositions that he said were still work in progress. No one would have noticed had he not said so. Clive also runs guitar courses and is a much sought after tutor.

John Etheridge has played with so many different bands and guitarist that there is not enough room in my blog article here to mention them all. John's contribution to the 4 Parts Guitar quartet was to mostly play electric guitar, on both solo performances and in combination with the other players acoustic guitar sound stage. He can play fast, I mean fast! This was aptly demonstrated by his fast and furious performance of a Django Reinhardt composition. Just as with fellow members of this quartet, John is also a talented guitar teacher.
Each of the four virtuoso performers started off the evening by taking turns in giving solo performances in their own particular style of playing before coming together in the second half for a series of duets and a few quartet pieces. Throughout the evening we heard a wide repertoire including classical, Jazz, blues, central and south American and African music. Ray Burley and Clive Caroll's rendition of Agua e Vinho was spellbinding.
The coming together of different musical styles performed by truly amazing virtuoso guitarists had an effect on me that I have not experienced for some time. It's the music stupid! You only ever get that effect on rare occasions when the musicianship is just so damn good that it rises high above the ordinary and takes you to a different place where you become totally enveloped in the sheer musicality of what you are listening to.
There was plenty of humorous banter and anecdotal stories, particularly from Gordon and John that filled in the gaps between playing that was often down to articulate re-tuning of the various guitars each performer had available to them.
Mention has to be made of the excellent clarity of the sound system at the Pavilion, as every nuance of the musical performances came across very well, which certainly added to the enjoyment. I wish every venue and sound engineer could emulate a similar conscientious competence.
Absolutely brilliant! Altogether a superb evening of great performances from four of the finest guitarists you are likely to hear anywhere, anytime.