Richard Trevithick (1771-1833), born Tregajorran, Cornwall. Engineer and inventor.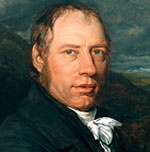 Trevithick's game-changing contribution to the early development of the steam engine resinates down through history to the present day.
Before his revolutionary engineering design to successfully contain and control high-pressure steam, the then emerging technology of steam power could only offer cumbersome, underpowered and very expensive to run engines relative to size.
His hugely significant high-pressure design leapfrogged everything that had been built to date. This was effectively the launchpad for all future steam powered engines including the immensely successful world-wide railway industry that followed. He reasoned that his engine design could now be more compact, lighter and small enough to carry its own weight even with a carriage attached.
Trevithick built a full-size steam road locomotive in 1801 on a site near the present day Fore Street at Camborne, Cornwall. Trevithick named his carriage 'Puffing Devil' and on Christmas Eve that year, he demonstrated it by successfully carrying six passengers up Fore Street and then continuing on up Camborne Hill, from Camborne Cross, to the nearby village of Beacon. This is widely recognised as the first demonstration of transportation powered by steam. It also inspired the popular Cornish folk song "Camborne Hill".
He also built the first full-scale working railway steam locomotive. On 21 February 1804 the world's first locomotive-hauled railway journey took place as Trevithick's unnamed steam locomotive hauled a train along the tramway of the Penydarren Ironworks, in Merthyr Tydfil, Wales.
The legacy of Trevithick's engineering genius is that it has given us control of high-pressure gasses and fluids that is commonly used today in industry, nuclear and fossil fuel power stations and many engineering applications that utilise his basic principle.