Newquay Cornwall Airport could be chosen as the UK's spaceport.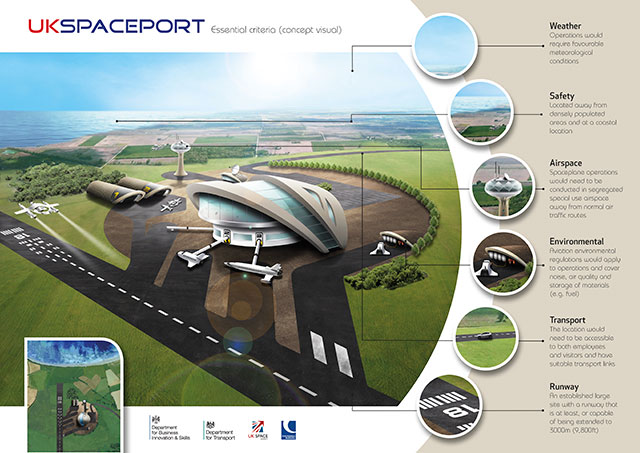 Spaceport essential criteria (artists concept visual)
If Newquay's Airport in Cornwall were to be chosen then it could host a fully operational spaceport within four years with millions of pounds worth of investment, not only for Cornwall but also for the regional South West.
The UK Government's primary considerations for such a venture centre on these three key elements: a runway of sufficient length (around 3,000m or more): a coastal location with minimal population: modest civil air traffic movements. So far, Newquay Airport has maintained its position on the CAA's (Civil Aviation Authority) official list of sites to be considered. Cornwall's rivals are Campbeltown, Glasgow Prestwick and Stornoway in Scotland, Llanbedr in Wales and RAF Leuchars, also in Scotland, which is being considered as a temporary facility.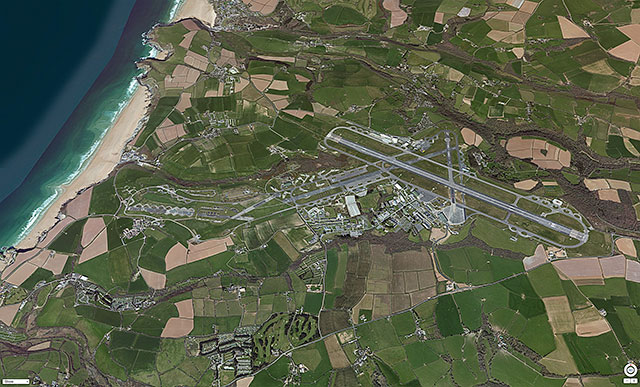 NQY Newquay Cornwall Airport – aerial view
Prominent in Newquay's favour must surely be the following formidable factors, especially the obviously considerable infrastructure that is already in place within the local region:
• Newquay Airport already passes the three main criteria.
• There is an already established 'Aerohub' Enterprise Zone technology centre on-site with plenty of room to grow and is the largest planning-free development site in the UK.
• The airport already has commercial air links to major UK cities including London as well as a number of international destinations. Car hire is also available on-site from major international suppliers.
• The long established Goonhilly earth satellite/space communications centre is on its doorstep.
• The South West region already has well established major international aerospace engineering companies such as GKN and Airbus operating out of Filton's large technology park close to Bristol.
• Superfast Cornwall's county-wide high-speed fibre optic broadband is among the best in the whole of the UK, and is a world leading example of infrastructure implementation for a mostly rural area.
• Being a well loved tourist destination of outstanding natural beauty, the county of Cornwall has plenty of readily available quality accommodation for visiting/temporary staff and customers.
• Recent, government approved, high profile road and rail improvements to the region are already in progress including a world-class overnight sleeper train from London for those who like to arrive refreshed ready to face the day.
• A number of close by centres of learning excellence at university campus sites threading down the South West peninsular from Exeter through Plymouth to Penryn, Falmouth.
…and who would not want to live and work in Cornwall with its renowned quality of life and friendly population that is well versed in welcoming people to its fantastic environment. Outstanding natural beauty, more fabulous beaches than you can poke a stick at, a stunning 258 mile (415 km) long coastal public foot path that encompasses the entire coastline of the county with more that traverse it inland, great family leisure activities and entertainment in abundance, outstanding locally produced food and drink catering for a wide range of tastes from simple, delicious pub grub to top celebrity chef restaurants – what is there not to like.
This matrix of positive assets is so obviously superior to its competitors that only a strong, politically motivated decision could go against it.