Art, Literature and Music
Cornwall has for a long time been associated with providing an inspirational environment for encouraging creative arts, crafts, literature and music and that tradition continues today with a thriving creative community spanning diverse genre.
The earliest form of surviving art is from Cornwall's Celtic period with distinctively styled, intricate patterns appearing as carvings on stone and in beautifully crafted jewellery.
The quality of daylight in Cornwall combined with the stunning natural beauty of its landscape drew the attention of many artists. This was especially so when the expanding railway reached further into the county. Noteworthy schools of art that became established were the Newlyn School (early 1800s), The Lamorna School (an offshoot of the Newlyn School) and the 20th Century's St Ives School an important, innovating force for modern and abstract art that also encompassed sculpture and pottery. The Tate at St Ives houses the largest collections currently on display in the county, but there are countless small galleries dotted around all over Cornwall, many of which are run by the artist owner. Photography has now joined with the traditional arts and is also well represented among the creative community.
Literature has also played a major part in Cornwall's creative heritage with poetry, prose and stories in both Cornish and English available in print. Three notable modern poets that lived and wrote in Cornwall are Charles Causley (1917-2003), Bob Cobbing (1920-2002) and WS Graham (1918-1986).
In 1914 the Lancastrian poet Laurence Binyon wrote "For the Fallen" while sitting on the cliffs between Pentire Point and The Rumps, Cornwall.
The famous forth stanza, often recited at Remembrance Sunday, is reproduced below:
They shall grow not old, as we that are left grow old
Age shall not weary them, nor the years condemn
At the going down of the sun and in the morning
We will remember them
From story telling to full-blown novels there are plenty of works of fiction, often with dark and somewhat sinister plots and characters that reflect the isolation and desolation of some parts of the peninsular. Popular authors who wrote stories based in Cornwall are Daphne Du Maurier (Rebecca, Jamaica Inn, etc.), Winston Graham (Poldark novels) and W. J. Burley (Wycliffe, crime novels). William Golding, writer of the world-famous novel 'Lord of the Flies' was born on the north Cornish coast. Golding won the 1980 Booker Prize and also the Nobel Prize for Literature three years later. He was Knighted in 1988.
As for the music heritage of Cornwall, this understandably focused strongly on life beside the coast and at sea with the familiar sea shanty being the most readily recognisable form along with traditional folk songs. Not to be outdone by their maritime cousins the many mining community male voice choirs and brass bands also enjoyed popularity across the county. The maritime and mining vocal and music traditions are still both well represented today even though most performers no longer practice the trades of their predecessors. Contemporary music is also appreciated among its fan base and encouragingly there are plenty of talented young Cornish bands, singers and musicians that have struck a chord not only locally, but much further afield as well.
Food
Mention has to be made of the excellent locally produced food. Outside the county, Cornwall's most well known foods have traditionally been the Cornish pasty [PGI designation], Cornish clotted cream [PDO designation] and Cornish Sardines (previously Cornish Pilchards) [PGI designation]. Some other locally produced old favourites that are now becoming popular further afield are the Cornish Fairing (biscuit), Cornish Yarg (cheese wrapped in nettles) and various real ales among others. Saffron cake, an old Cornish favourite, is still very popular (Saffron was once farmed in Stratton, Cornwall).
Recently, the breadth and depth of quality food and drink now being produced in Cornwall has expanded exponentially and this has placed the county in the upper echelons of world class quality food producers. Cornish Blue cheese received the World Cheese Award in 2010 and joins other very successful cheeses such as Keltic Gold, Cornish Brie, Cornish Camembert, Cornish Gouda plus there are many other artisan cheeses with local Cornish names being produced. The Davidstow creamery in north Cornwall is now the UK's largest producer of quality mature cheddars. Real ale, cider and wine production has been a tremendous success story with several companies producing award winning thirst quenchers. Farmers in Cornwall, whether arable or pastoral, have always supplied best quality produce that has gained recognition by customers such as top chefs and supermarkets. This, along with innovative new introductions such as venison and duck, has raised awareness of the 'Cornwall brand' as being one of excellence.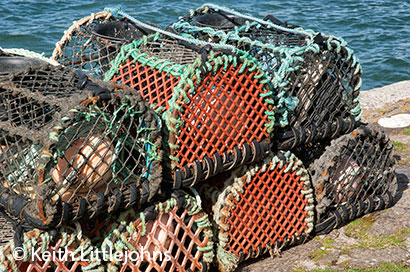 Sea fishing has long been extremely important to the Cornish economy helped by the sheer diversity of fish species that can be caught around its coast that is second to none in British waters. Sardines were once a major export earner for Cornwall and with sardine stocks now recovered to a very large sustainable high there has been a recent revival of this once very important export. However, fishing in general has declined with considerably reduced fleets putting out to sea. There is strong local feeling that EU enforced fishing policy and quotas has largely been responsible for this decline with a resulting loss of businesses and jobs.
The list of locally produced foods selling well to the rest of the UK and abroad is getting longer and longer with too many products to mention here. One important factor that has helped the bottom line is that many food producers now themselves also organise for the professional packaging and marketing of their products thus enjoying a higher return on investment when taking their products to market as well as helping support other parts of the local Cornish economy including the creative design, printing, web design and marketing sectors.
Tourism
Cornwall, with its mild and sunny maritime climate, is probably best known today as a holiday destination. Indeed, its relatively small resident population of just over half a million is dwarfed by the millions of visitors each year. The county offers its many visitors some of the best beaches, water sports, stunning coastal scenery, family friendly attractions, historic places of interest, famous gardens and good food that can be found anywhere in the UK. Of particular interest to walkers is the 258 mile (415 km) long coastal path with stunningly beautiful views that is a public right of way around the entire coastline of Cornwall. What is not so widely known is that the main holiday season from Easter to the end of October is supplemented by many visitors choosing to visit the county at other times of the year to enjoy a well-earned relaxing break at a time when Cornwall is enjoying a generally milder climate than the rest of the UK. A number of festivals take place outside of the main season as well as newer introductions such as pre-Christmas Victorian style markets, and there is nothing like having a scrumptious meal with a pint of local ale or a glass of wine at a cozy traditional pub tucked away in a lovely coastal village – bliss!
Cornwall's Cultural Assets
Cornwall's unique cultural heritage and distinctiveness is one of the area's major assets. The Cornish language, landscape, Celtic identity, political history, patterns of settlement, maritime tradition, industrial heritage, and non-conformist tradition, are generally considered to be among the features comprising its "distinctive" culture.
The People
Lastly, but by no means least, there is the importance of the expression of Cornish culture and the great sense of community that's historically run the length and breadth of the county from Land's End to the Tamar that binds its people together. This has been and is something of great importance to a county that until recent times has been relatively isolated with many of its inhabitants often enduring great hardship in what many outsiders now consider an idyllic place to be. Cornwall may not be the richest county in the UK in terms of monetary wealth, but it does have some of the most genuinely community-spirited people you are likely to meet anywhere.
 © 2014 Keith Littlejohns